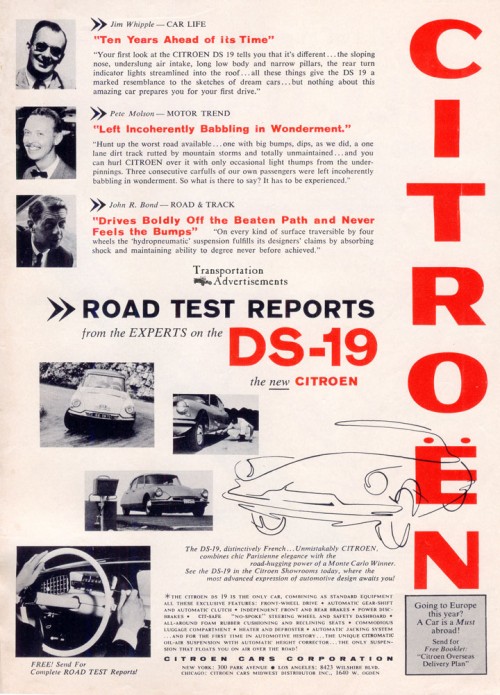 Jim Whipple – Car Life
"Ten Years Ahead of its Time"
"Your first look at the CITROEN DS 19 tells you it's different…the sloping nose, underslung air intake, long low body and narrow pillars, the rear turn indicator lights streamlined into the rood…all these things give the DS 19 a marked resemblance to the sketches of dream cars..but nothing about this amazing car prepares you for your first drive."
Pete Molson – Motor Trend
"Left Incoherently Babbling in Wonderment,"
"Hunt up the worst road available…one with big bumps, dips, as we did, one lane dirt track rutted by mountain storms and totally unmaintained..and you can hurl CITROEN over it with only occasional light thumps from the under pinning. Three consecutive carfulls of our own passengers were left incoherently babbling in wonderment. So what is there to say? It has to be experienced."
John R. Bond – Road & Track
"Drives Boldly Off the Beaten Path and Never Feels the Bumps"
"On every kind of surface traversible by four wheel the "hydropneumatic" suspension fulfills its designers' claims by absorbing shock and maintaining ability to degree never before achieved"
Road Test Reports from the experts on the DS-19 the new Citroen
The DS-19, distinctively French…Unmistakably CITROEN, combined chic Parisienne elegance with the road-hugging power of a Monte Carlo Winner.
See the DS-19 in the Citroen Showrooms today, where the most advanced expression of automotive design awaits you!
The Citroen DS 19 is the only car, combining as standard equipment all these exclusive features:
Front-Wheel Drive
Automatic Gear-Shift and Automatic Clutch
Independent Front and Rear Brakes
Power Disc-Brakes
Cit-Safe "No-Spoke" Steering Wheel and Safety Dashboard
All-Around foam Rubber Cushioning and Reclining Seats
Commodious Luggage Compartment
Heater and Defroster
Automatic Jacking System
…And for the First Time in Automotive History…The Unique Citromatic Oil-Air Suspension with Automatic Height Corrector…The Only Suspension that Floats You on Air Over the Road!
Citroen Cars Corporation
New York: 300 Park Avenue – Los Angeles: 8423 Wilshire Blvd.
Chicago: Citroen Cars Midwest Distributor Inc., 1640 W Ogden
Going to Europe this year? A Car is a Must abroad!
Send for Free Booklet: "Citroen Overseas Delivery Plan"
Source: 1957 Car Life